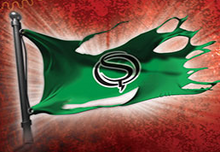 The SQ are the antagonists in the series, trying to break history, even though they believe they are doing good. They are enemies of the Hystorians who are trying to fix history. They are currently lead by Tilda, also known as The Lady in Red. Their name origins from the sentence in latin In statu quo res erant ante bellum or "the state in which things were before the war". After being defeated in The Iron Empire, the society chenges name to AB, ane bellum. SQ members who look for time travelers are called Time Wardens.
Confirmed members
Edit
Disguised redcoat
Redcoats
Mary Lockett aka Fake Ms. Beeson
Slavers/fake Quakers
Ninja master
Ninja assasins
Manxhu general
Manchu army
Market Inspector
Grand Vizier
Louis and Clark's kidnapper
Jailer
Inhabitants of Louisiana
French Aristocrate (same as in episode 1)
Other/Multiple Apperances
Edit
Tilda aka The Lady in Red
Mysterious bald man
Dak clones from other universes
Sera clones from other universes
Ad blocker interference detected!
Wikia is a free-to-use site that makes money from advertising. We have a modified experience for viewers using ad blockers

Wikia is not accessible if you've made further modifications. Remove the custom ad blocker rule(s) and the page will load as expected.